Routes and Places
Early Bird Thursday
For those arriving early on the Thursday, we planned a small trip to the city centre of Aalst (supported by the local tourism office) and the chance to enjoy dinner in one of the local restaurants or bistros.
Aalst is well known for its UNESCO classified tradition of celebrating carnival and its 19th century social crises engendered by the Industrial Revolution, with Father Adolf Daens and his Christene Volkspartij emerging as the local defender of workers' rights.
You can join us on the trip when showing up, after a possible lengthy trip we don't want anybody to persuade us to join. Any expenses will be paid individually and not in advance.
The Event Weekend
Friday, 26 May
Saturday, 27 May
Sunday, 28 May

Drivers' day enjoying Flanders and surroundings

You will drive a nice combination of small charming roads and quicker B-roads showing Flanders at its best.

Lunch is booked en route (on the spot oven-baked pizza's and soft drinks included).

A somewhat special dinner will be served in the hotel and is another adventure of flavors: you will be enjoying several delicious small plates all prepared with local specialities and accompanied with local brewed beers (or different if you are not into beers).




Cost for this day is 55 euros p.p.

(including lunch, dinner and drinks)

Discovering an amazing location in Wallonia

You will leave a bit earlier in the morning, hitting the nice roads again to travel South and visit a very special place, quite unique in the world. No details given in advance, but you'll all love it.

We arranged to have guided tours and lunch over there including some drinks.

The roadbook will then take you back to the hotel in Aalst. There a buffet – offering a wide choice and even more – is planned as the official dinner. Wines or other beverages are included.

Cost for this day is 75 euros p.p.

(including entrance fees, guided tour, lunch, dinner and drinks)

Let's meet even more

On the Sunday, you will be joined by other members from the MG Car Club Antwerp.

We are looking at the opportunity to visit a local (and very nice) museum, going on a smaller tour in the region. A light lunch (pick-nick) is arranged.

At the end of today's tour we will end the event in an official way, saying good-bye to those returning on the Sunday.

Those of you staying another night will be guided back to the hotel with another roadbook.


Cost for this day is 10 euros p.p.

(including entrance fees and pick-nick)
Routes to drive and places to see
As is customary with MGFIM, any details like which routes to drive and what things we will see and visit on the weekend are still kept secret.
MGFIM '17 is organised by the MG Car Club Antwerp, known to many of you from their famous Kempenrit events with more than a hundred cars attending. 
This means that the event planning and route scouting is in very competent hands and we can all look forward to another great weekend. We are going to meet many friends old and new, enjoying fantastic roads and lots of fun over a couple of drinks in the evenings.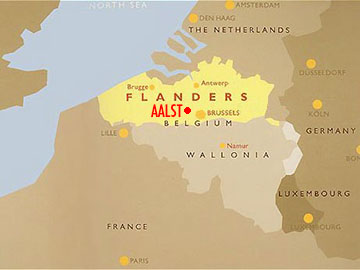 To give you an idea where you have to travel to, Aalst is located near Brussels, just off the E40 motorway. It is within easy reach of other major European cities, like Paris, Amsterdam, London or Cologne. Luxembourg is also not far away.
The Belgian language divide between Flanders and Wallonia is about 25 kilometres to the South.