Where we are staying
Our hotel: Ibis Aalst Centrum
Villalaan 20
9300 AALST
The ibis Aalst Centrum hotel is located on the outskirts of the city centre, near the main business districts and the E40 highway. The hotel has 78 air-conditioned rooms, a comfortable bar serving drinks and snacks 24 hours a day (very important!) and a delicious buffet breakfast. All guests can enjoy free WIFI access.
Very useful for us is that there is a private underground car park. Although this is often used by the local office workers, it will be vacated during MGFIM, as it's a long holiday weekend.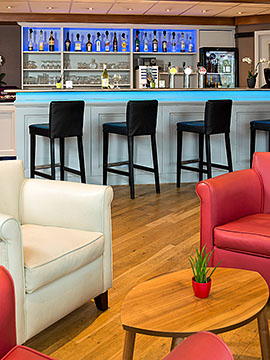 All rooms are modern and inviting, equipped with all the features you want most: A nicely decorated room with wooden floors, bathroom with air con, walk-in shower, hairdryer & flat screen TV with international channels. Rooms are available as double, twin or single.
All-you-can-eat breakfast buffet
The Ibis breakfast is an all-you-can-eat buffet served between 6.30 and 10 am, combining all the elements of a traditional continental breakfast. Wherever you are in the world, you'll find Ibis breakfasts also include local specialties for you to enjoy.
In your registration confirmation email you will receive the link to book your room at the special rate agreed for MGFIM participants.
This is 72 euros per night for a single room and 82 euros per night for a double or twin room.
The charge for the underground car park is 5 euros per night which will will be settled at check-out.