About MG

F

riends

I

n

M

otion
---
What's it all about?
In the "old days", there were a lot of great international events, known as MGF International Meetings (MGFIM). There you could meet friends from other countries to have a lot fun together. Unfortunately, most of them have ceased to exist and those who still do are either threatened with extinction or come in a price range which forces many enthusiasts to think twice.
We – an international group of enthusiasts – don't want to accept this; we still feel the need to meet our old (and possibly lots of new) friends at least once every other year to drive around, have a chat and a good time. Also, we'd like to offer all drivers of modern MGs - from RV8s to the last MG TFs, from Metros along the Z-series to the latest MG3 - the opportunity to be part of an active MG lifestyle and get to know different cultures, outstanding vehicles and people and different points of view, while having good fun.
Therefore, whe have decided to revive the old acronym "MGFIM" and fill it with a new meaning: Friends In Motion.
---
Worum geht's überhaupt?
In der "guten alten Zeit" gab es jede Menge tolle internationale Treffen, die als MGF International Meetings (MGFIM) bekannt waren. Dort konnte man Freunde aus anderen Ländern treffen und viel Spaß zusammen haben. Leider gibt es die meisten nicht mehr und die übrig gebliebenen stehen auch am Rande des Aufhörens oder fallen in eine Preiskategorie, bei der die meisten MG-Fans zwei Mal überlegen müssen, ob sie sich das leisten können.
Wir – eine internationale Gruppe von Enthusiasten – wollen das so nicht akzeptieren; wir haben immer noch das Bedürfnis, unsere alten (und und vielleicht jede menge neuen) Freunde mindestens einmal alle zwei Jahre zu treffen, um herumzufahren, zu quatschen und einfach eine gute Zeit zusammen zu haben. Darüber hinaus wollen wir allen Fahrerinnen und Fahrern moderner MGs - vom RV8 bis zum letzten MG TF, vom Metro über die ZR/ZS/ZT bis zum neuesten MG3 - die Möglichkeit geben, an einem aktiven MG Leben teilzunehmen. Dazu gehört es, verschiedene Kulturen, außergewöhnliche Fahrzeuge und unterschiedliche Standpunkte kennenzulernen, verbunden mit viel Spaß.
Deshalb haben wir uns entschlossen, das alte Kürzel "MGFIM" wiederzubeleben, und es mit einem neuen Inhalt zu füllen: Friends In Motion (Freunde in Bewegung).
P.S.: Der Rest dieser Website ist derzeit nur auf Englisch zu lesen, eventuell gibt es irgendwann ein mehrsprachiges Update.
---
MGFIM - c'est quoi ça?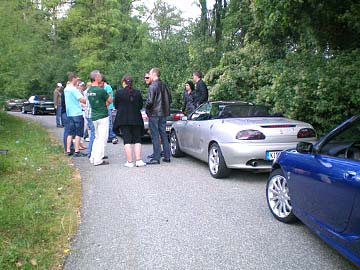 Par le passé, se tenait de nombreux évènements internationaux importants, connus sous la dénomination : MGF International Meetings (MGFIM). On pouvait y rencontrer des amis d'autres pays pour passer de bons moments ensembles. Malheureusement, la plupart d'entre eux ont cessé d'exister et ceux qui se maintiennent encore sont soit menacées d'extinction, soit atteignent des prix qui obligent beaucoup d'enthousiastes à y regarder à deux fois.
Nous – un groupe international d'enthousiastes – ne voulons pas accepter cette situation; nous avons toujours le désir de rencontrer nos vieux amis (et si possible de nombreux nouveaux) au moins une fois tous les deux ans; pour rouler ensemble, échanger nos expériences et prendre du bon temps. Nous souhaitons également offrir, à tous les pilotes des MG modernes - du RV8 aux dernières MG TF, du Metro par les ZR/ZS/ZT à la nouvelle MG3 -, l'occasion de prendre part activement au « MG Lifestyle » et d'accéder à la connaissance d'autres cultures, de véhicules et de personnes remarquables ; d'échanger différents points de vue, tout en s'amusant beaucoup.
C'est pourquoi nous avons décidé de faire revivre l'ancien acronyme « MGFIM » avec une nouvelle signification : MG Friends In Motion (Les Amis MG en Marche).
P.S.: le reste de cette site web est maintenant seulement disponible en anglais. Il peut être que avec une future mise-á-jour une version multi-linguale sera installée.
---
MGFIM - ¿qué cosa está?
En los "buenos viejos tiempos" había un montón de grandes reuniones eran conocidas como MFG "Reuniones internacionales" (MGFIM). Ahí se podía conocer amigos de otros países y pasar un buen rato juntos. Desafortunadamente no quedan muchas de ésas reuniones, y las que quedan están casi extintas o son grupos en los cuales tienen costo. De éstas últimas, uno se la piensa dos veces si realmente quiere pagar.
Nosotros - un grupo de entusiastas internacionales- no queremos aceptar eso; queremos reunirnos con nuestros antiguos (y tal vez muchos nuevos) amigos al menos una vez por año, para conversar o simplemente pasar un buen rato juntos. Por lo tanto nosotros los conductores de MG modernos - de las RV8 hasta las últimas MG TF, de las Metro via la seria Z hasta las mas nuevas MG3 - queremos darnos la oportunidad de tomar parte en un activo MG. Lo cual incluye conocer diferentes culturas, autos extraordinarios y un montón de cosas más, claro, todo eso reunido con mucha diversión.
Por eso hemos decidido utilizar el antiguo término MGFIM y darle un nuevo lema "Friends In Motion" (amigos en Movimiento).
P.S. El resto de ésta página puede leerse solo en el idioma inglés y eventualmente, será actualizada en varios idiomas.
Submenu